Status of employment and graduate schools
Status of employment and graduate schools
 System Information Engineering course graduates are engaged in research, development, and design activities in all kinds of industrial fields, including research at universities, laboratories, electrical industry, machinery industry, steel industry, and chemical industry.The target also plays a central role in the field of the production automation system and the production information management system of a large-scale factory for a wide variety of measuring instruments, control systems, computer hardware and software, robots, medical diagnostic systems, and speech and character recognition systems.
 Graduates of the mathematical engineering course in addition to universities, public and private research institutes, and other companies engaged in various types of work, recent graduates develop and operate computer systems in electronic computer companies and so-called soft industries; steel, chemistry, machinery, Design and management of production systems in the construction industry, etc., many are engaged in the design and management of operations research and information systems in various industries, banks, and administrative offices.
(2017–2019)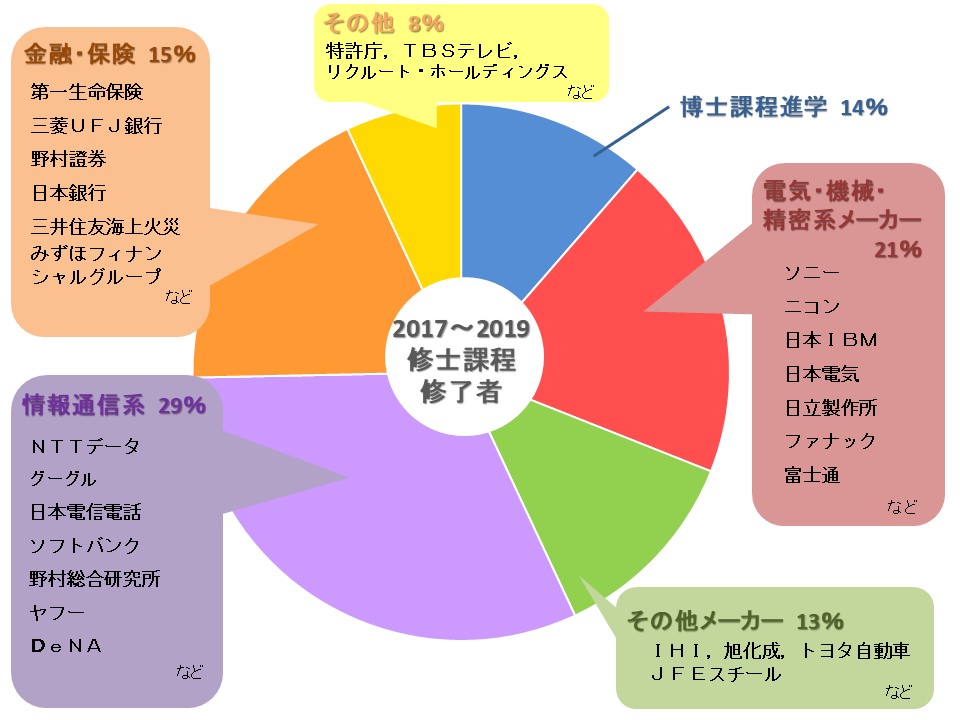 2017–2019
From fiscal year 2005 to FY 2016
The distribution according to the field of the graduate is as follows.
| Field | Alumni | Recent major Employers |
| --- | --- | --- |
| Research positions (universities, research institutes, etc.) | 668 | |
| Government | 58 | |
| Electrical system | 437 | Hitachi, Fujitsu, Japan Electric (NEC), Sony, Toshiba, Matsushita Electric Industry, Sumitomo Electric Industries, Ltd. |
| Other manufacturers | 160 | Fuji Photo Film, Ricoh, Canon, Toray, Nintendo |
| Information System | 316 | Japan IBM, NTT Data, NTT (laboratories), Panasonic MC, Sony Ericsson, Hitachi Software, Asahi Net |
| Finance, insurance, trading company, etc. | 165 | Mizuho Group, Japan Bank, Nomura Research Institute, Sumitomo Mitsui Banking Corporation, Japan Life, Goldman Sachs Securities, Accenture, Nomura Securities, agriculture and Forestry, Tokyo Maritime Fire, Germany Bank, Morgan Stanley Securities |
| Other | 225 | Okuyama, JR East, Tokyo Gas, Shikoku Electric power |
| Enrolled in school | 171 | |